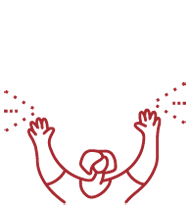 You Register
For both Students and Hosts, it only takes a few minutes to fill in a registration form. Select the appropriate section below to get started.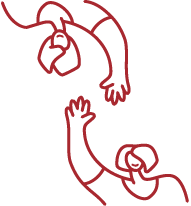 We Match
We will carefully match registered students and hosts together. Matching is based on location, available dates, and other preferences. We will then send the contact info to both students and hosts.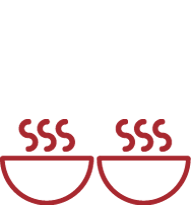 Enjoy Your Meal!
The host will contact their international student guests to invite them to their home. All that remains is to enjoy your meal together and begin a friendship!
Interested in building friendships with International Students?
Imagine your son or daughter spending years in a far away country… How would you want locals to treat them?
Did you know there are over one million international students enrolled at universities and colleges here? During their 4+ years in the U.S., most of them never have the opportunity to be invited into an American home.
International students often stay in the city during the major holidays like Easter, Thanksgiving and Christmas. Why not invite some students into your home to share a meal together? It's a great opportunity for you to build friendship, to learn about foreign cultures and to help international students to build a sense of belonging in a new city.
Interested by the idea, but feel a bit nervous about what it is like? Below we've put together a list of the most frequently asked questions that will help you to get a better idea.
Ready to take in this experience?
Here's how it works.
If you are a friendly American interested in being a local host:
1Select the city you are in and register by filling out the online form. Explain a bit about your family setup and preferred time to host, etc.
2For safety issues, you will be asked to provide a reference of a leader in your church who can vouch for you as a suitable person/family to host a dinner with students.
3We will match you with up to three students based on various factors including allergy issues, special diets and location.. We will provide you with their contact information. Please contact your students within a week and arrange a date and time for the dinner.
4It will be your responsibility to arrange transportation for them. You can pick them up from their residence, their school or a specific public transit. Make sure to give clear directions as students may be unfamiliar with public transit.
5We will provide video training, which may help you understand more about your guests' cultures.
Enjoy the time with the international student!
Frequently Asked Questions
Who is "Friends for Dinner"?
Friends for Dinner is a network of volunteers from local churches and Christian ministries in the city.
Who can participate as hosts?
If Friends for Dinner is running in your city and you are involved in a local church, you are welcome to register. Be sure to provide a reference from a pastor or leader in your church.
Can you tell me more about international students?
There are over one million international students enrolled at universities and colleges in the U.S. Their studies may take anywhere from two to six or more years to complete, yet even during this amount of time, most will never be invited into an American home. They sometimes feel lonely and homesick, and because of the investment required for them to study here, many also feel a lot of pressure to succeed. International students often stay in the city during the major holidays of Easter, Thanksgiving and Christmas. This is a great opportunity to build friendships with them, learn about their culture and help them feel welcome and accepted in America.
What does a meal with a student look like?
Hosts will contact their student guests to confirm the date of their meal and organize transportation. Some hosts will include students in a traditional family gathering, others will plan a special meal for their student guests. They may serve traditional American holiday foods or they may serve foods from their own ethnic traditions.
During registration, students are asked for information regarding any dietary restrictions they may have; this information is communicated to the hosts so that they can accommodate their students' preferences.
After the meal, hosts may invite student guests to play games, walk in the neighborhood or simply continue to talk and learn about one another.
Is there a cost?
No, there is no cost for Friends for Dinner apart from what you spend purchasing for your meal.
Let's get started.
Select your city and register with the online form.
If the form does not appear, registration may not yet be open.
Chapel Hill, North Carolina
Chicago, Illinois
DC Metro
Detroit, Michigan
Houston, Texas
NYC, New York
Orange County, California
San Diego, California
Seattle, Washington
Still have questions?
Send a Message